Bomber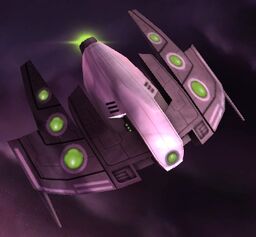 Build Time:

19.8

seconds.
 
Hull:

75

Repair:

0.365

Armor:


(Light)

1

Experience value:

6.5

 
Weapon Damage Per Second Per Bank


(front / back / left / right)

Beam:


(Anti Very Heavy)

2.5 / 0 / 0 / 0


Range: 2400

Weapon Banks:

1 / 0 / 0 / 0

 
Squad Size: 7
Advent Bombers
are armed with powerful beams. In large numbers, they can bring down powerful units like capital ships or starbases very quickly. Weak to any fighter strike-craft or anti strike-craft frigate. Each squad of bombers has 7 members, with the exception of upgraded hangar defenses and high level
Halcyon Carriers
. Like their
TEC
counterparts, the current bomber was upgraded from its original version which only had one beam emitter and was slightly less detailed. Their armor type is Light and their damage type is Anti-Very Heavy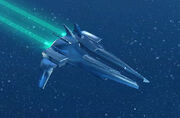 .
It is best to have these in a different control group, so you can send them on focus fire bombing runs to take down the enemy's capital ships.
The bomber's new design bears a resemblance to a Cylon Raider from the television series Battlestar Galactica (1980).
Community content is available under
CC-BY-SA
unless otherwise noted.