Arcova Scout Frigate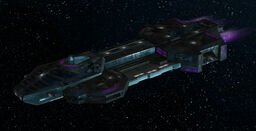 Cost: 200
Build Time:

15

seconds.
Uses:

2

supply.
 
Hull:

450

Repair:

1

Armor:


(Light)

1

Shields:

175

Regeneration:

0.5

Max Mitigation:

60%

Experience value:

8

 
Weapon Damage Per Second Per Bank


(front / back / left / right)

Laser:


(Anti Light)

3 / 0 / 0 / 0


Range: 5000

Weapon Banks:

1 / 0 / 0 / 0

 
Strong vs. none
A light frigate with powerful engines and remote surveillance equipment, it is adept at reconnaissance.
Shortcut: (

Q

)
The Arcova Scout Frigate is the TEC's Scout Frigate.
Overview
[
]
Accustomed to the prolonged periods of isolation their long reconnaissance missions often require, Arcova crews make excellent forward observers for the fleet. Their powerful engines, ability to bypass enemy phase jump inhibitors and remote sensor equipment further enhance their intelligence role.
Tactics
[
]
Like all scouts, the Arcova can be build cheaply and quickly. In spacious maps, they are the frigate of choice to be used by the TEC for taking out neutral siege frigates: although the Arcova's listed damage is low, in numbers such as 9+, they destroy enemy units with "Light Armor" very quickly. However, against any other target, the frigate does next to no damage.
The Arcova is arguably the best early reconnaissance frigate of any empire. The Probe ability is easily and cheaply researched and provides an edge over the other two empires' scout frigates. Later, the Timed Explosives ability allows them to attack buildings with devastating effect. However, the ability's very long cooldown time and the Arcova's very low durability means that this will often be restricted to very occasional raids on nonfortified planets behind enemy lines. The ship can also reveal enemy mines, which allows the frigate and any ships within range to shoot and destroy the mines, rendering them harmless. Simply move the Arcova towards the mines and even its puny laser weapon will clear the explosives with one hit.
Like all scout frigates, it can be upgraded with a jump drive that is immune to the effects of phase jump inhibitors. In the early-game, scout frigates are the most cost-effective at countering enemy players' light raiding parties of siege frigates or Ogrovs.
Ship Info
[
]
| | |
| --- | --- |
| Primary Role: | Exploration / Recon |
| Shield Power: | Very Low |
| Hull Points: | Very Low |
| Armor Level: | Very Low |
| Armor Type | Light |
| Primary Weapons: | Forward Pulse Laser |
| Antimatter: | None |
| Crew Complement: | 75 |