Cielo Command Cruiser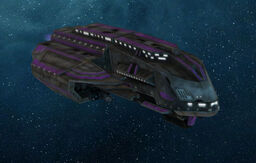 Cost: 425 25 60
Build Time:

30

seconds.
Uses:

6

supply.
 
Hull:

850

Repair:

1

Armor:


(Heavy)

1

Shields:

250

Regeneration:

0.5

Max Mitigation:

60%

Antimatter:

350

Recharge:

1

Experience value:

33

 
Weapon Damage Per Second Per Bank


(front / back / left / right)

Laser:


(Anti Heavy)

4 / 0 / 0 / 0


Range: 4000

Weapon Banks:

1 / 0 / 0 / 0

 
Strong vs. none
A support cruiser captained by mid ranking fleet officers, it can empower and coordinate the attack efforts of others.
Shortcut: (

E

)
The Cielo Command Cruiser is the TEC's Offensive Support Cruiser.
Overview
[
]
Cielos are command and control centers for the TEC fleet. Staffed by hundreds of experienced coordinators and command staff, and equipped with the newly developed Tactical and Targeting Analysis (TATA) computers, the Cielo is able to boost the attack power and efficiency of any fleet it accompanies. Should allied ships find themselves close to defeat, each Cielo's command crew is effective at issuing a rallying call to embolden the battle-worn crews.
Tactics
[
]
The Cielo is extraordinarily resource-intensive, being at tier 5 of the Military Tree. In addition, the Cielo's most potent ability, Designate Target, does not become available until tier 6. Given the TEC's reliance on extensive trade routes and a powerful economy to compensate for their military weaknesses, this means that smaller games will rarely see Cielo deployment, since the logistical slots required to produce both a competitive military (one capable of producing Cielos) and a robust economy would overwhelm the logistical slots of a small number of systems struggling against multiple opponents. That being said, Cielos with Designate Target can very occasionally swing engagements in favor of the TEC if the enemy is mostly depending on very large units such as capital ships, starbases, heavy cruisers, and carrier cruisers.
Trivia
[
]
"Cielo" means both "sky" and "heaven" in Spanish and Italian.
Development
[
]
Patch 1.1 changed Designate Target so it made its victims take 40% bonus damage, up from 25%.
| | |
| --- | --- |
| Ship Type: | Cruiser |
| Primary Role: | Support, Offensive |
| Shield Power: | Very Low |
| Hull Points: | Low |
| Armor Level: | Very Low |
| Armor Type: | Heavy |
| Antimatter: | Very High |
| Weapons: | Forward Heavy Pulse Laser |
| Crew Complement: | 900 |