Cobalt Light Frigate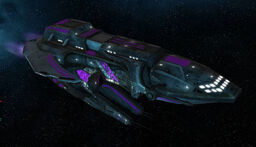 Cost: 300 55
Build Time:

24

seconds.
Uses:

5

supply.
 
Hull:

635

Repair:

1

Armor:


(Medium)

2

Shields:

370

Regeneration:

1

Max Mitigation:

60%

Antimatter:

200

Recharge:

0.5

Experience value:

40

 
Weapon Damage Per Second Per Bank


(front / back / left / right)

Laser:


(Anti Heavy)

10 / 0 / 0 / 0


Range: 3500

Weapon Banks:

1 / 0 / 0 / 0

 
Strong vs. antifighter frigates, siege frigates, carrier cruisers and utility cruisers.
A workhorse combat frigate that can be upgraded to efficiently defeat other ships with abilities.
Shortcut: (

W

)
The Cobalt Light Frigate is the TEC's Light Frigate.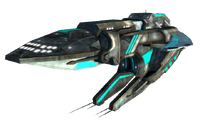 The workhorse of the TEC fleet, the Cobalt combines speed with an average weapons package. Cobalts are best deployed in groups and packs of upgraded Cobalts are extremely effective at hunting down antimatter-dependent units. As they are typically manned by the TEC's newest recruits, fleet commanders are well advised to keep them on a tight leash lest they charge into battle prematurely.
The Cobalt functions as an early game brick for your fleet. A Cobalt is extremely cost efficient boasting great survivability and damage at low cost and build time, early on these will handle just about anything thrown at them outside of Long Range Frigates, at that point you want to add Corvettes. Thanks to how cost efficient these ships are you will generally want to bulk up a large fleet of them very quickly to give you a lot of early game speed and presence. They are also efficient at dealing with Corvettes who do reduced damage to the Cobalts medium armor whilst the Cobalt does full damage to the Corvettes. 
Later in the game the Cobalt becomes an anti-support ship through the use of the Sabotage Reactor ability providing an effective answer to your opponents powerful ship abilities and their anti-heavy weapon type which is effective against all support ships including the anti-strikecraft frigate.
Ship Info
Edit
| | |
| --- | --- |
| Ship Type: | Frigate |
| Primary Role: | Combat |
| Shield Power: | Low |
| Hull Points: | Very Low |
| Armor Level: | Low |
| Armor Type: | Medium |
| Antimatter: | Low |
| Weapons: | Forward: Dual Linked Pulse Lasers |
| Compliment: | 150 |
Community content is available under
CC-BY-SA
unless otherwise noted.