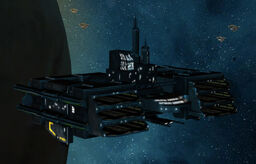 Cost: 700 120 70
Build Time:

65

seconds.
Uses:

4

slot(s).
 
Hull:

4000

Repair:

2

Armor:


(Module)

8

Antimatter:

400

Recharge:

0.75

Experience value:

75

 
Weapon Damage Per Second Per Bank


(front / back / left / right)

Autocannon:


(Anti Very Light)

10 / 10 / 10 / 10


Range: 4500

Weapon Banks:

2 / 2 / 2 / 2

Squadrons supported:

2

Squadrons of strike craft defend nearby structures and the planet from hostile forces.
Shortcut: (

W

)
The TEC have their own variant of the Hangar Defense.
Official Description: The orbital hangar houses two squadrons of fighters or bombers before it can defend their planet's gravity well. Hangar defense must be researched before it can be constructed.
Overview
[
]
This building as said functions as a hangar. Flak Turrets adds very powerful anti-fighter/anti-corvette autocannons onto the Hangar.
Tactics
[
]
More practical than the Gauss Turrets. They should be placed within the defensive perimeter of a starbase when in the late game, when you need to hold a choke point. However, they have some use early on, where they effectively counter corvettes. Should you be in a very bad position early on, this upgrade and hangar defense are almost mandatory for your defense. They have four banks and do 80 damage per second.