Jarun Migrator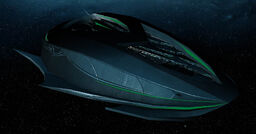 Cost: 425 140 50
Build Time:

40

seconds.
Uses:

6

supply.
 
Hull:

1000

Repair:

1

Armor:


(Light)

0

Shields:

225

Regeneration:

0.5

Max Mitigation:

60%

Antimatter:

225

Recharge:

0.5

Experience value:

6

 
Weapon Damage Per Second Per Bank


(front / back / left / right)

Pulse Gun:


(Anti Light)

5 / 0 / 0 / 0


Range: 2500

Weapon Banks:

1 / 0 / 0 / 0

 
Strong vs. none.
A large frigate stocking the necessary supplies to establish new outposts on uncontested planets.
Shortcut: (

A

)
The Jarun Migrator is the Vasari's Colony Frigate and Starbase Construction Frigate in the Entrenchment micro-expansion.
Official Description: As one of the largest frigates known to exist, the Jarun Migrator safely ferries civilians critical to the survival of the Vasari species and experienced xeno administrators between the stars. The Jarun Migrator is extremely vulnerable to enemy attack and must be carefully guarded. Jarun's are also capable of being upgraded to deploy Vasari starbases.
In Entrenchment, the Jarun Migrator is the only colonization frigate that is capable of constructing a Star Base. The Orkulus Star Base holds an advantage over that of the Argonev Star Base or the Transcencia Star Base, it can slowly move anywhere in its gravity well. This along with the option to add dedicated structure-killing weaponry as an upgrade module makes the Orkulus a powerful offensive weapon compared to the other two races' star bases.
Ship Type:
Jarun Migrator
Faction:
Vasari
Primary Role:
Colonization
Secondary Role:
Starbase Construction
Armor Type:
Light
Weapons:
2 x Forward Pulse Guns
Squadrons Supported:
None
Complement:
1,600
Community content is available under
CC-BY-SA
unless otherwise noted.