Javelis LRM Frigate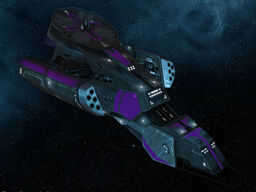 Cost: 275 45 25
Build Time:

25

seconds.
Uses:

4

supply.
 
Hull:

500

Repair:

1

Armor:


(Light)

1

Shields:

280

Regeneration:

1

Max Mitigation:

60%

Experience value:

30

 
Weapon Damage Per Second Per Bank


(front / back / left / right)

Missile:


(Anti Medium)

11 / 0 / 0 / 0


Range: 9800

Weapon Banks:

1 / 0 / 0 / 0

 
Strong vs. light frigates.
A lightly armored frigate equipped with powerful long range missiles.
Shortcut: (

E

)
The Javelis LRM Frigate is the TEC's Long Range Frigate.
Overview
[
]
The Javelis is the TEC's answer to enemy weapon emplacements which would otherwise cause heavy damage against a fleet. With their exceptional long-range and damage potential, the Javelis can quickly obliterate an enemy, and with Clustered Warheads, groups of smaller frigates don't stand a chance beneath its devastating area of effect attack. However, the Javelis' weak armor and shields make it an easy target, particularly for enemy fighters.
Tactics
[
]
The Javelis has the longest range of any general-purpose combat unit in the game, and this range can be increased even further by researching late-game technologies or pairing it up with an Akkan Battlecruiser with Targeting Uplink. Using bonuses like these, a Javelis can attack immobile enemies such as turrets or starbases from outside of retaliation range. Against mobile enemy fleets, though, this range advantage is not very significant.
Unfortunately, the Long-Range Frigate has fallen out of favor due to the development of Corvettes which hard counter the frigates. To counter corvettes and protect the Javelis requires production of Garda Flak Frigates which are a sort of soft counter to the Javelis. To counter Gardas requires one of two units; the Light Frigate or Heavy Cruiser. If the opponent goes with light frigates then Javelises should be produced, but if heavy cruisers are produced the Javelis is not as effective and should be ignored.
Ship Info
[
]
| | |
| --- | --- |
| Ship Type: | Frigate |
| Primary Role: | Long-Range Assault |
| Shield Power: | Very Low |
| Hull Points: | Very Low |
| Armor Level: | Very Low |
| Armor Type: | Light |
| Antimatter: | None |
| Weapons: | 2 x Long-Range Missile Pods |
| Compliment: | 200 |