Krosov Siege Frigate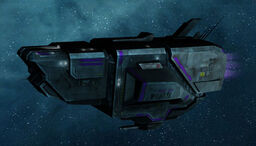 Cost: 620 80 65
Build Time:

52

seconds.
Uses:

12

supply.
 
Hull:

510

Repair:

1

Armor:


(Light)

2

Shields:

255

Regeneration:

1

Max Mitigation:

60%

Experience value:

36

 
Weapon Damage Per Second Per Bank


(front / back / left / right)

Laser:


(Anti Heavy)

7 / 0 / 0 / 0


Range: 2500

Weapon Banks:

1 / 0 / 0 / 0

 
Bombing Damage:

31

Strong vs. none
A large frigate that sacrifices armor and combat strength for planetary bombardment weapons.
Shortcut: (

R

)
The Krosov Siege Frigate is the TEC's Siege Frigate.
Overview
[
]
When it's time to take out a planetary target, the TEC calls in its Krosov Siege Frigates to do the job. A small group of Krosov's can quickly cause catastrophic damage to an enemy world and can survive against defenders with its heavier shields and hull. Regrettably, the situation is dire enough that the TEC command is considering equipping radioactive warheads to the Krosov, that will severely diminish the population growth of enemy planets.
Tactics
[
]
Nearly identical to the other two siege frigates, the Krosov does not differentiate itself until late in the game when Heavy Fallout becomes available. This special ability allows for hit and run raids with Krosovs to become more effective by reducing the rate at which the enemy can repopulate, thus reducing their income from taxes. Be aware that this effect persists even if the planet is destroyed, making it of detriment should you conquer the system yourself.
To increase their survivability they should be grouped with a few carriers holding fighters, a few Garda Flak Frigates and a group of Hoshiko Robotics Cruisers.
Ship Info
[
]
| | |
| --- | --- |
| Ship Type: | Frigate |
| Primary Role: | Planetary Bombardment |
| Shield Power: | Low |
| Hull Points: | Low |
| Armor Level: | Low |
| Armor Type: | Light |
| Antimatter: | None |
| Weapons: | Forward Heavy Pulse Laser / 2 x Ship-to-Surface Nuclear Missile Launchers |
| Compliment: | 175 |