Percheron Light Carrier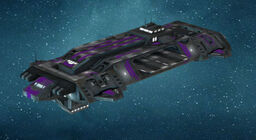 Cost: 835 150 135
Build Time:

64

seconds.
Uses:

14

supply.
 
Hull:

1580

Repair:

1.5

Armor:


(Heavy)

3

Shields:

650

Regeneration:

1

Max Mitigation:

60%

Antimatter:

400

Recharge:

0.4

Experience value:

84

 
 
Strike Craft: 2
Strong vs. none
A support cruiser able to manufacture and field two squadrons of strike craft.
Shortcut: (

Q

)
The Percheron Light Carrier is the TEC's Squadron Support Cruiser.
Overview
[
]
When the TEC need to augment their fleets with fighter or bomber support, the call goes out to the Percheron. Each carrier is able to support two squadrons which serve as the ship's only offense and defense. (The game's description, even in Rebellion, misleadingly says that the Percheron can build "a squadron".)  However due to their long-range nature, Percherons rarely enter the fray and usually remain on the edges of a gravity well out of harm's way.
Tactics
[
]
A small group of Percherons is a nice addition to most fleets even though they don't have any weapons except for their strike craft. Carriers can manufacture fighters to counter enemy bombers and lightly-armored targets like LRF, but watch out for flak which can quickly devastate multiple squadrons of fighters. When faced with lots of enemy flak, one can switch to bombers, which are more durable and do massive amounts of damage against enemy structures, heavy cruisers, and capital ships.
Bombers are also fairly effective against Starbases, having a 65% damage multiplier against them (and all structures), whereas most ships do 50% or less vs. modules/starbases; only heavy cruisers, capital ships and specialist anti-structure ships have a higher multiplier (the last category mentioned has 200% for comparison; the other two have 75%). Bombers however have the added advantage that they cannot be shot at by any of the starbases' guns; they thus serve as a soft counter to starbases. (It's also worth noting here that fighters, which also cannot be shot at by starbases, only have a 35% damage multiplier against starbases.)
Ship Info
[
]
| | |
| --- | --- |
| Ship Type: | Cruiser |
| Primary Role: | Squadron Support |
| Shield Power: | Low |
| Hull Points: | Low |
| Armor Level: | Low |
| Armor Type: | Medium |
| Antimatter: | None |
| Weapons: | None |
| Compliment: | 450 |