Raloz Heavy Constructor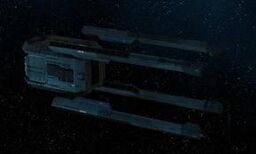 Cost: 2000 350 250
Build Time:

25

seconds.
Uses:

10

supply.
 
Hull:

1500

Repair:

2

Armor:


(Heavy)

3

Regeneration:

1

Max Mitigation:

60%

Experience value:

30

 
 
Strong vs. none
A deep space construction cruiser able to establish a star base in distant gravity wells.
Shortcut: (

T

)
In order to fortify their fronts and planets of special value, the TEC developed the Raloz Heavy Constructor. The Raloz is consumed in addition to more resources in order to create a starbase. With limited personnel, gravity wells are limited to one starbase; the TEC loyalists, however, can research the ability to have a second star base in a single gravity well.
The Raloz is all about knowing where to place your Starbase. The first rule is the position of the gravity well. Is it in a choke? Does it control the entrance of a sun(Should it be on a multi-star map)? When you choose your gravity well, choose to place the starbase around the location of any logistic structures and, if none are present, the planet.
Ship Info
Edit
Community content is available under
CC-BY-SA
unless otherwise noted.