Seeker Vessel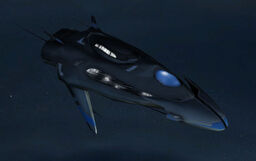 Cost: 200
Build Time:

15

seconds.
Uses:

2

supply.
 
Hull:

400

Repair:

1

Armor:


(Light)

2

Shields:

425

Regeneration:

1

Max Mitigation:

60%

Experience value:

8

 
Weapon Damage Per Second Per Bank


(front / back / left / right)

Laser:


(Anti Light)

2 / 0 / 0 / 0


Range: 5000

Weapon Banks:

1 / 0 / 0 / 0

 
Stong vs. none.
A nimble ship well suited for scouting, its crew's devotion to the Unity is so strong they will even sacrifice themselves to further its goals.
The Seeker Vessel is the Advent's Scout Frigate.
Official Description: The Seeker Vessel is a fast-attack ship built for quickly scouting out enemy fleet positions and jumping back without being noticed. Its twin pulse lasers also make it useful in small skirmishes against lightly armored targets. Dedicated to the will of the Unity, Seekers will not hesitate to sacrifice a portion of their presence to follow the enemy or to martyr themselves against the hulls of the unenlightened.
Tactics
[
]
Like all scout frigates, the Seeker's weapons are puny against everything except enemy units with Light Armor. However, what the Seeker lacks in firepower, it makes up in durability. With more armor and more combined shield/hull points than the TEC or Vasari variants it can survive those fleeting encounters with enemy fleets and defensive positions more effectively.
As scouts their ability to observe enemies is rivaled by no one. Lingering Presence is perhaps the best scout ability in game. While it requires the sacrifice of the Seeker, it causes the gravity well that it died at to be seen by the player and his allies for 15 minutes(at second rank). But its always handy to have more scout frigates to keep on tabs on your enemies. And like all scout frigates they can be upgraded to be immune to Phase Jump Inhibitors.
Scouts are also a soft counter to LRF units such as the Javelis LRM Frigate and the Kanrak Assailant as a number of around 20 is enough to deal with them. Also with the assistance of Martyrdom makes them an excellent counter. They are also effective against Siege Frigates and Ogrov Torpedo Cruisers.
| | |
| --- | --- |
| Ship Type: | Frigate |
| Primary Role: | Exploration / Reconnaissance |
| Shield Power: | Very Low |
| Hull Points: | Very Low |
| Armor Level: | Low |
| Armor Type: | Light |
| Antimatter: | None |
| Weapons: | 2 x Forward Pulse Lasers |
| Compliment: | 100 |