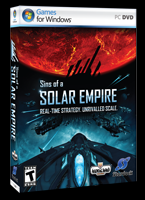 Sins of a Solar Empire (Sins or SoaSE) is a real-time strategy (RTS) game that incorporates a mixture of RTS and 4X gameplay, this has been jokingly called RT4X. The game was developed by Ironclad Games and published by Stardock Corporate in 2008.
Storyline
Edit
Sins of a Solar Empire takes place in multiple star systems across the galaxy. While there is no campaign, the premise of the game is introduced via an introductory cinematic. An ancient alien race (known as the Vasari), which is on the run from some mysterious threat that has been chasing them for thousands of years, arrives in human space and begins a conflict with the human race (organized under the banner of the Trade Order). The Human race was losing on all fronts until the TEC was formed to combat the alien threat.
The humans seem to be making ground against the Vasari onslaught for some time, but in the midst of this progress, the past arrive to haunt them. One thousand years earlier, the trade order banished a group of "deviants" from a small desert world orbiting a red star for committing "acts of deviancy, at every level of society". They have returned as the Advent, a powerful, advanced, psychic army which is determined to seek revenge against humanity for their banishment.
The three races are now locked in a seemingly never ending war with each other.
Expansions
Edit
Entrenchment released on February 25, 2009. It is the first micro-expansion of the series. It improve the more defensive aspect of the game.The expansion includes new weapon upgrades and defense platforms, including modular starbases.
Diplomacy released on August 26, 2009. It is the second micro-expansion, it adds to the diplomacy aspect of the game, on top of the changes in Entrenchment.
Stand-Alone Expansions
Edit
Rebellion is the first stand-alone expansion, it adds to the gameplay choices the player must make.
The game was released on February 4, 2008, its first content expansion titled Entrenchment was released as a download on February 25, 2009, and its second content expansion titled Diplomacy was released as a download on February 9, 2010. A package that combines the original game with the two expansions was released at that time with the name Sins of a Solar Empire: Trinity. A stand-alone expansion called Rebellion was released on June 12, 2012.
Players: 1-10
Resolution: 1024 x 768 minimum, maximum resolution limited only by hardware
Publisher: Stardock
Developer: Ironclad
Format: DVD or Digital Copy for PC
Rating: "T"
System Requirements
Edit
Minimum
Maximum
Operating system
Windows 7 / Windows Vista / Windows XP Service Pack 3
CPU
1.8 GHz (single core)
2.2 GHz Dual- or Quad-Core Processor
Memory
512 MB (Windows XP) 1 GB (Windows Vista)
1GB (Windows XP) 2GB (Windows Vista)
Hard drive space
3 GB of free space
Graphics hardware
128 MB DirectX 9 3D Video Card (Radeon 9600 / GeForce 6600 and above)
256 MB DirectX 9 3D Video Card (Radeon X1600 / GeForce 7600 and above)
Sound hardware
100% DirectX 9.0c compliant card
Network
Internet connection required for multiplayer