Bomber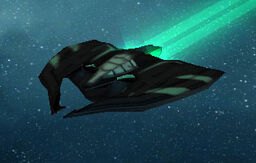 Build Time:

33

seconds.
 
Hull:

140

Repair:

0.68

Armor:


(Light)

5

Experience value:

11

 
Weapon Damage Per Second Per Bank


(front / back / left / right)

Phase Missile:


(Anti Very Heavy)

5.4 / 0 / 0 / 0


Range: 2400

Weapon Banks:

1 / 0 / 0 / 0

 
Squad Size: 3

Vasari Bombers are armed with Phase Missiles that have a chance to penetrate and completely bypass a ships shields. Weak to any fighter strike-craft or anti strike-craft frigates.
The Vasari Bomber is generally considered to be the best bomber due to its use of Phase Missiles, which can bypass shields and by extension, Shield Mitigation, after the proper research is conducted. This makes them extremely dangerous when deployed in swarms from Lasurak Transporters, especially against poorly armored Advent ships. They are also individually the toughest strikecraft in the game, which means that their squadrons are more resilient against area-effect anti-strikecraft abilities such as Flak Burst and Telekinetic Push. They are the only strikecraft capable of surviving two fully-leveled Flak Bursts.
There are 3 individual bombers per squadron.