Fighter
Build Time:

26.4

seconds.
 
Hull:

85

Repair:

0.47

Armor:


(Very Light)

3

Experience value:

5

 
Weapon Damage Per Second Per Bank


(front / back / left / right)

Beam:


(Anti Light)

3.1 / 0 / 0 / 0


Range: 2400

Weapon Banks:

1 / 0 / 0 / 0

 
Squad Size: 4

Vasari Fighters are armed with Pulse Beams and are effective against lightly armored targets. They may be used early on aboard capital ships to help clear militia-controlled Krosov and Javelis frigates, which have light armor, but later on they may be supplanted with more powerful Phase Missile armed Bombers that are effective against a wider range of targets.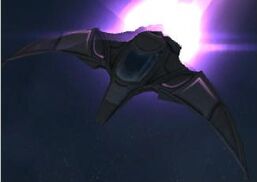 Community content is available under
CC-BY-SA
unless otherwise noted.